Working With Your Workforce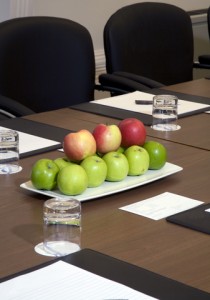 Access Nutrition can help your workforce be healthier, happier and more productive.
We offer a range of programs designed to give practical, expert advice on health and nutrition.  We work on your premises to :
Provide short one-to-one consultations through the day
Give focussed lunchtime talks on topical issues
Give you interesting, focussed articles for your in-house magazine : for example, top tips for a healthier Christmas or holiday
Group support for weight loss
Group support for weight loss
It's far easier to achieve weight loss as part of a team than on your own. We work on-site with a group of your employees to help them all to reach their weight loss goals. We :
help them identify realistic but challenging goals
discuss nutritional needs
help with menu planning
give strategies for successful long-term changes in eating behaviour
help create a network for on-going support
Business Benefits
We help you demonstrate your positive attitude to your staff.  A positive, happy workplace is always a more productive workplace.  Encouraging better nutrition in the workforce also encourages reductions in sickness and absences.